Post by songbird on Mar 31, 2023 22:28:54 GMT -5
Chilaquiles Verde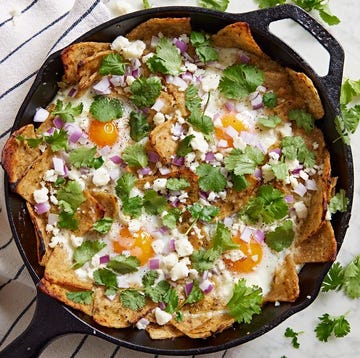 If you're looking for the ultimate breakfast, try this green salsa-smothered take on chilaquiles. With crisped up tortillas, fresh (or store-bought!) salsa verde, runny eggs, and creamy cotija, it's the ultimate brunch dish when you just can't decide between breakfast and lunch. Rather than fried eggs (a traditional topping for chilaquiles), we skipped the extra skillet and baked them right into the dish, lending more of a breakfast casserole feel than a saucy chip concoction (plus it's one less pan to clean…it's a win-win all around).
What are chilaquiles?
A traditional Mexican dish, chilaquiles consist of lightly fried corn tortillas tossed in salsa verde (like we did here) or a red chile sauce, then topped with queso fresco, Mexican crema, and often fried eggs. After your eggs, the toppings are essentially up to you! We went with diced red onion and fresh cilantro, but you can really add whatever you please.
Variations toppings.
— While traditional chilaquiles use homemade fried tortilla chips, we've opted to bake our own to make this recipe lighter and easier to execute. If you're pressed for time, you're also welcome to skip making your own and use 8 ounces of thick cut, store-bought chips.
— Like things even spicier? Use a medium or spicy salsa rather than mild, or just top the finished dish with sliced chiles, such as jalapeño or serrano, or a nice dash of hot sauce.
— Want to make this more of a lunch dish? Top with avocado and chicken to give this a hearty, lunch-leaning twist.
YIELDS: 4 serving(s)
PREP TIME: 10 mins
TOTAL TIME: 45 mins
Ingredients
16 yellow corn tortillas (5-inch rounds)
4 tbsp. canola oil, divided
Kosher salt
2 cloves garlic, minced
3 c. store-bought mild green salsa (from two 16-oz. jars)
1/4 c. low-sodium chicken broth
4 large eggs
Freshly ground black pepper
1/4 c. sour cream
4 tsp. water, approximately
1/4 c. crumbled cotija cheese, queso fresco, or feta
1/4 c. chopped fresh cilantro
1/4 c. diced red onion
Directions
Step 1
Preheat the oven to 400° with racks in the upper and lower shelves. Brush tortillas all over with 3 tablespoons of oil, then stack and cut each into 8 wedges. Divide wedges evenly between 2 baking sheets and bake, rotating and tossing chips halfway through, until golden and crisp, 15 to 17 minutes. Season each tray with ¼ teaspoon salt and let cool slightly while preparing sauce. Keep oven on.
Step 2
Heat remaining tablespoon oil in an oven-safe skillet over medium-high heat. Add garlic and cook, stirring, until light golden, about 1 minute. Pour in salsa and broth and bring to a boil. Simmer for 2 minutes until just slightly thickened. Remove from heat and stir in baked tortilla chips until just coated.
Step 3
Make 4 wells in chip mixture with the back of a spoon and crack 1 egg into each well. Season eggs with salt and pepper.
Step 4
Transfer skillet to oven and bake until whites are set and yolks are just barely set, 12 to 15 minutes.
Step 5
While chilaquiles are baking, thin sour cream with about 4 teaspoons water until drizzling consistency, adding more water a few drops at a time if necessary.
Step 6
Once the egg bake comes out of the oven, drizzle some of the thinned sour cream all over. Top with some of the cheese, cilantro, and onion and serve with remaining garnish on the side.
link