Post by songbird on Apr 13, 2023 19:41:10 GMT -5
Strawberry Lemon Cupcakes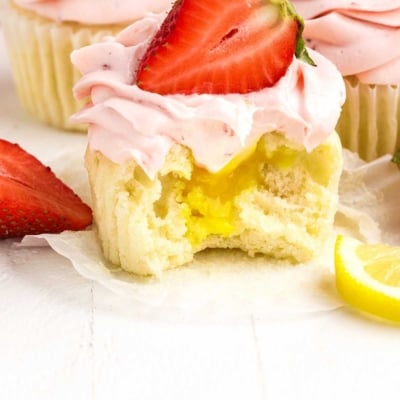 Prep Time
20 mins
Cook Time
17 mins
Total Time
37 mins
Recipe Servings:
Ingredients
¾ cup salted butter, softened
1¼ cups granulated sugar
2 tablespoons lemon zest
1 teaspoon vanilla extract
¼ teaspoon lemon oil, or 1 tablespoon lemon extract
3 large eggs, room temperature
3 cups all-purpose flour
½ teaspoon baking soda
1½ teaspoons baking powder
1½ cups whole milk
⅓ cup mayonnaise
⅓ cup fresh lemon juice
1 recipe strawberry cream cheese frosting (get recipe below)
½ cup lemon curd (store bought or homemade)
Fresh strawberries, halved for garnish
Instructions
Preheat the oven to 350°F. Line muffin tins with cupcake liners and set aside.
Cream together the butter and sugar in the bowl of a stand mixer, or you can also use a hand mixer. Beat for 2 minutes on medium speed, scraping down the sides of the bowl midway. The mixture will be fluffy and very pale yellow.
Beat in lemon zest, vanilla extract, lemon oil, and eggs. Beat for 2 minutes longer.
Measure the flour, baking soda, and baking powder into a separate bowl and whisk together.
In another small bowl, whisk together milk, mayonnaise, and lemon juice.
Add ⅓ of the milk mixture to the butter/sugar mixture and beat until combined. Add ½ of the flour mixture, mixing briefly. Add another ⅓ of the milk mixture, the remaining flour, and then the remaining milk mixture.
Beat just enough between each addition to incorporate the ingredients, but do not overmix.
Transfer batter to the prepared muffin tins, filling ⅔ of the way full.
Bake for 17 minutes or until a toothpick inserted into the cupcakes comes out with just a few crumbs.
After 3 minutes of cooling, transfer cupcakes to a cooling rack to cool completely.
Use a serrated spoon or piping tip to scoop out a small portion (about 1 teaspoon) of the top of each cooled cupcake.
Use a piping bag, a Ziploc bag with the corner snipped off, or a squeeze bottle to fill each cavity with lemon curd.
Prepare the strawberry frosting.
Frost the cupcakes to cover the lemon curd.
Notes
Do not overmix the batter once you have added all of the ingredients together. This can make tough cupcakes.
Oven temperatures vary and may need to be recalibrated periodically to ensure they are accurate. Make sure to keep a close eye on your cupcakes as the recommended baking time approaches.
This is a medium-density, moist cupcake. The cupcakes hold up well to frosting once cooled, but it is too soft while it is still warm. Wait until the cupcakes are cooled completely (you can even chill them in the refrigerator or freezer) before scooping the tops and filling them with lemon curd or adding frosting.
link
Strawberry Cream Cheese Frosting



Prep Time
10 mins
Cook Time
10 mins
Cool Time
30 mins
Total Time
50 mins
Ingredients
1 cup fresh strawberries, chopped
1 tablespoon granulated sugar
1 cup salted butter, softened
16 ounces cream cheese, softened
5 cups powdered sugar
1 teaspoon vanilla extract
Instructions
Strawberry Puree Reduction
In a 2-quart saucepan, heat the chopped strawberries over medium heat. Bring the strawberry mixture to a boil and sprinkle with 1 tablespoon of granulated sugar.
Use a potato masher to break down the strawberries as they cook. You want them to be as finely pureed as possible. Continue simmering, stirring frequently, until nearly all liquid has evaporated.
Cook for about 10 minutes total until the puree has reduced by half. You will have ½ cup of strawberry puree when done.
Remove the puree reduction from the heat and cool to room temperature in the refrigerator before preparing the frosting.
Frosting
Beat together the softened cream cheese and butter until light and fluffy.
Add in vanilla extract and beat until combined.
Beat in 5 cups of powdered sugar, working in batches to reduce spillage.
Beat in the cooled strawberry puree reduction.
Notes
The beauty of this frosting is that you can make it in advance and store it in the freezer until the day you are ready to use it.
This is a softer frosting. It will work well for frosting cupcakes or cakes. Basic piping with open tip 1A or star tip 1M is shown here. Detailed piping is more suitable with stiffer frosting.
Make sure your cream cheese is at room temperature so that you don't end up with lumps in your creamy frosting.
To use this frosting after refrigeration or freezing, set the frosting on the counter at room temperature for an hour or so until the
frosting softens. Then beat in a stand mixer or with a hand mixer until smooth and fluffy before spreading on top of the cake or cupcakes.
Lemon Curd


Prep Time
5 mins
Cook Time
10 mins
Total Time
15 mins
Makes about 1 1/2 cups
Ingredients
1 cup granulated sugar
⅓ cup freshly squeezed lemon juice
2 large eggs, room temperature
2 large egg yolks, room temperature
1 tablespoon lemon zest, grated finely
½ cup salted butter, cut into pieces
Instructions
In a medium saucepan, whisk together sugar, lemon juice, eggs, egg yolks, and lemon zest.
Heat over medium-low, whisking at all times.
After cooking and whisking for 5 to 8 minutes, the mixture should begin to thicken. If it does not thicken, turn the heat up just a bit, but do not turn the heat above medium.
Once the mixture thickens, remove it from the heat and whisk in the pieces of butter until melted and combined.
If you would like extra smooth lemon curd, you can pass the curd through a fine-mesh sieve before transferring it to containers.
Transfer the hot lemon curd to clean canning jars or a heat-proof bowl. Press plastic wrap onto the surface of the curd to prevent it from forming a skin while cooling.
Cool down the curd to room temperature, and then chill for at least one hour before using. Remove the plastic wrap after the curd has cooled.
Notes
The great lemon curd recipe is easy to double, and it keeps well in the freezer.
You can make the lemon curd by combining all of the ingredients (including the butter). This method takes longer for the curd to thicken, and also, I find the curd turns out creamier when whisking in the butter afterward like in this recipe.
We don't need to temper the eggs with this easy lemon curd recipe. Heat slowly over medium-low and do not turn the temperature above medium heat at any time, or the eggs can curdle.
There may be some foam during the cooking process as the curd begins to thicken. This will go away when the butter is added.
Nutrition