Post by leilani on May 8, 2023 0:25:11 GMT -5
OLD FASHIONED PINEAPPLE CAKE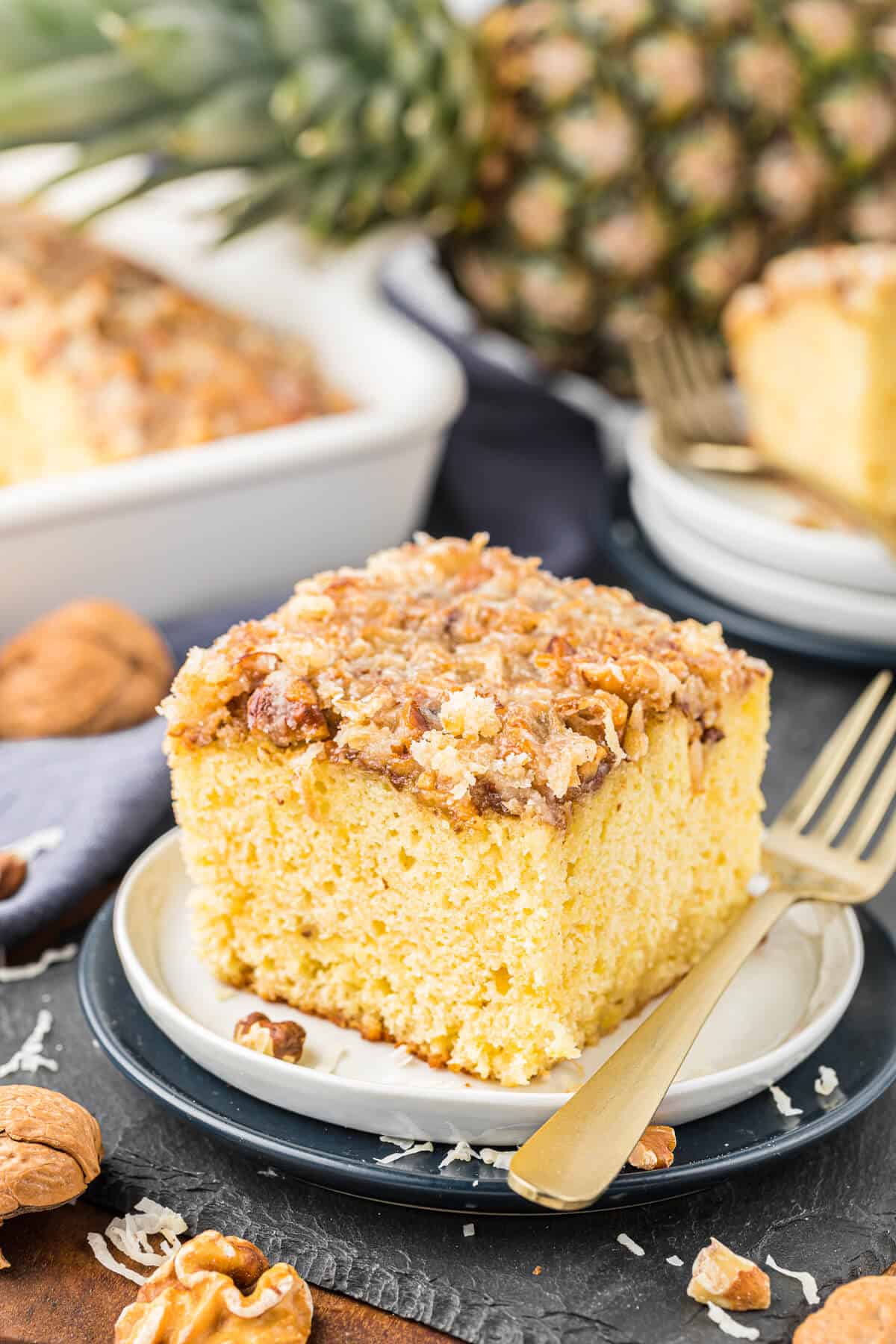 Prep Time: 15 minutes
Cook Time: 1 hour 5 minutes
Total Time: 1 hour 20 minutes
Ingredients
2 large eggs beaten
1 ½ cup granulated sugar
1 can crushed pineapple with juice 14oz can (about 1 ¾ cups)
1 ½ tsp baking powder
1 tsp vanilla extract
2 ¼ cups all-purpose flour
½ tsp salt
½ cup walnuts chopped (I use macadamia nuts)
½ cup shredded sweetened coconut
Glaze
¾ cup granulated sugar
¼ cup half and half
½ cup salted butter
½ tsp vanilla extract
Instructions
Preheat oven to 350°F. Grease a 9 inch square baking pan and set aside.
In a large bowl, stir together eggs, sugar, crushed pineapple (with the juices), baking powder, vanilla, flour and salt. Pour into baking pan.
Sprinkle walnuts and coconut on top.
Bake for 1 hour and 5 minutes or when a toothpick inserted into the center of the cake comes out clean.
Glaze
When the cake is almost ready to come out of the oven, start preparing the glaze. Add sugar, cream, butter and vanilla in a medium saucepan over medium heat. Bring to a boil. Boil for 2 minutes, stirring constantly.
Pour hot glaze over the hot cake and let cool.
Variations and Substitutions


Use cream cheese frosting or vanilla frosting instead of the boiled glaze. Wait till the cake comes to room temperature before attempting to add the frosting.
After the cake has been baked, poke holes in the top of the cake and then pour the hot glaze on top. It will seep into the cake!
Use a round cake pans instead of square.
Try coconut extract instead of vanilla extract for a more tropical vibe. You could also use rum extract.
Substitute chopped pecan for the walnuts. You can also leave out the nuts if you aren't a fan.
Add 1/4 cup of shredded sweetened coconut to the batter mixture for a tropical twist.
Mix 1/2 block of softened cream cheese or 1/2 cup of sour cream into the batter for extra richness.
Add 1/4 cup of grated carrots to the batter mixture to make a pineapple carrot cake.
Add 1/2 cup of mashed bananas to the batter mixture for a pineapple banana cake.
link