Post by ExquisiteGerbil on Jun 7, 2023 4:41:56 GMT -5
Final Stand? Half A Million French Protesters Take To Streets Against Pension Reform
BY TYLER DURDEN
WEDNESDAY, JUN 07, 2023 - 02:45 AM
Over half a million people are expected to protest across France on Tuesday against President Emmanuel Macron's widely unpopular pension overhaul, according to Euronews. This will be the 14th day of nationwide demonstrations since January.
Trade unions are making one last attempt to pressure lawmakers to reverse Macron's move to raise the retirement age from 62 to 64. Months of large protests have failed as union leaders are starting to get the memo:
"The game is about to end whether we like it or not," Laurent Berger, the leader of the French Democratic Confederation of Labor, the largest union in France, told The New York Times on Tuesday as he prepared to march in the streets of Paris.
Macron has argued that France's pension system is financially unsustainable due to too many retirees living longer.
"We have a deficit problem, and we have to plug it," Macron said in a televised interview last month. He added, "I stand by this reform."
As a result, Macron's disapproval rating has surged from 60% at the start of this year to a high of 70% in April, the highest level since December 2018.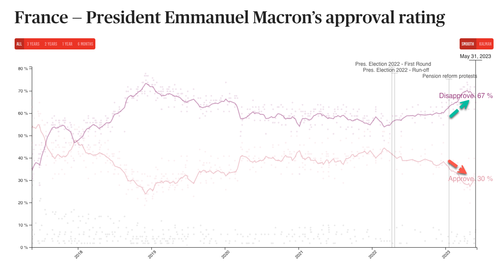 Source: Politico EU
Reuters cited BFM television broadcast images that show protesters storming the headquarters of the Paris 2024 Olympic Games. Footage of the incident was also shared on Twitter:
French protesters stormed the headquarters of the 2024 Olympics in Paris earlier today to protest against Macron's pension reform. pic.twitter.com/dqvi4CoVZY
— MintPress News (@mintpressnews) June 6, 2023
"Pas de retrait, pas de JO !"
La CGT #RATP envahit le siège des #JO2024 contre la #ReformeDesRetraites pic.twitter.com/ABBl9jJa07
— QG le média libre (@libreqg) June 6, 2023
Here's more chaos from Tuesday:
The 14th protest against the pension reform is taking place in Paris. pic.twitter.com/8bJph2X2IR
— Sprinter (@sprinter99880) June 6, 2023
In recent months, protesters stormed offices of BlackRock and the headquarters of LVMH Moët Hennessy Louis Vuitton.
"The new pension law is already on the statute books and after months of rare unity among the biggest trade unions, there are now divisions over where to focus energies," Reuters pointed out.
"This will be the last protest of this kind over the pension matter," said CFDT trade union's Berger.
link