Post by J.J.Gibbs on Oct 7, 2020 0:39:44 GMT -5
Planned in Advance by Central Banks – A 2020 System Reset
by BullionStar
Mon, 10/05/2020 - 18:39
Submitted by Ronan Manly, BullionStar.com
As early as 2015, I put forward the idea that the year 2020 looked to be a leading contender for a monetary system Reset.
I reached that conclusion based on a trend I had spotted in the gold repatriation timelines announced by a number of European central banks beginning in 2013. And who better to know the inside plans for a future and much needed reset of the financial system than the world's most powerful central banks, the unaccountable and secretive institutions where gold is at the heart of their balance sheets, and would be the natural and reserve asset anchor in any new international monetary system.
Besides, the global financial crisis that began in 2007/2008 never really ended. It was merely patched up, prolonged, and put on life support by central bank interventions in the form of unceasing quantitative easing (QE), asset buying, and artificially low interest rates.
From Frankfurt to Vienna
The first piece of evidence was the by now famous gold repatriation exercise by Germany's Bundesbank (Buba) to move nearly 700 tonnes of gold from the vaults of the New York Fed and Banque de France to Frankfurt, which the Bundesbank announced in a press release on 16 January 2013 as follows:
"By 2020, the Bundesbank intends to store half of Germany's gold reserves in its own vaults in Germany. The other half will remain in storage at its partner central banks in New York and London"
"To this end, the Bundesbank is planning a phased relocation of 300 tonnes of gold from New York to Frankfurt as well as an additional 374 tonnes from Paris to Frankfurt by 2020."
This was followed on 28 May 2015 by an announcement from Austria's central bank, the Oesterreichische Nationalbank (OeNB), that it too would repatriate gold stored in London back to its vaults in Vienna in what it referred to as the adoption of a '2020 gold storage policy'. To wit:
"The OeNB adopts 2020 gold storage policy:
Recently, the Governing Board of the OeNB adopted the 2020 gold storage policy …
By the year 2020, 50% of Austria's gold reserves are to be held in Austria (OeNB and Münze Österreich AG), 30% in London and 20% in Switzerland."
To me, the OeNB's 2020 plan following a similar statement by its German neighbour BuBa suggested a coordinated strategy by these central banks to regain control of as much gold reserve assets as they could in advance of a pre-planned system reset deadline of 2020.
Which is why on the same day, on 28 May 2015, more than 5 years ago, I pointed out this in a Tweet: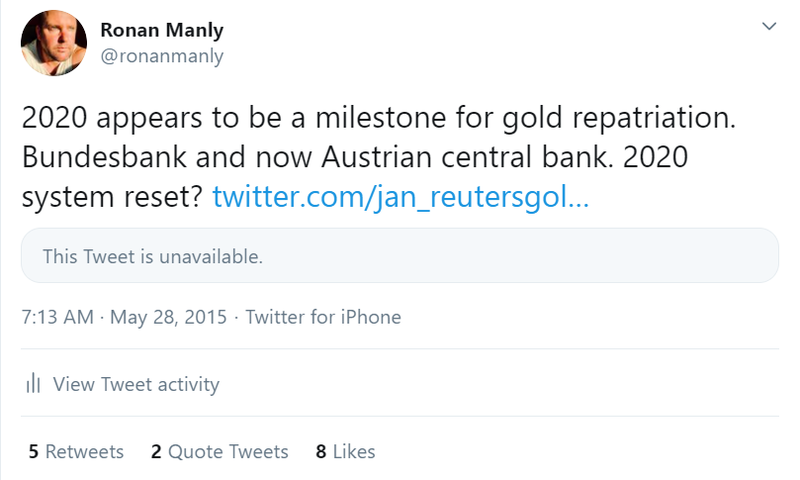 Continued at
link