Post by maybetoday on Mar 10, 2021 2:05:12 GMT -5
Air Fryer Cheeseburger Hand Pies
Air Fryer Cheeseburgers are rolled out biscuits filled and sealed with seasoned ground beef, bacon, and lots of cheese, cooked in an air fryer for a tasty appetizer.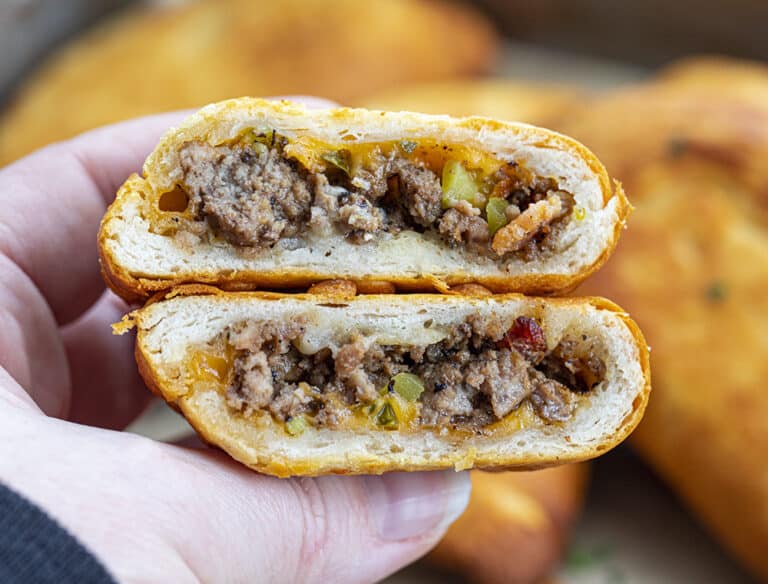 Prep Time 30 minutes
Cook Time 9 minutes
Total Time 39 minutes
Servings 8
Calories 341 kcal
Author Amanda Rettke--iamhomesteader.com
Ingredients
4 slices bacon
1 pound ground beef
½ cup yellow onion, minced
1 teaspoon seasoned salt
1 tablespoon hamburger seasoning
1 teaspoon salt
1 teaspoon pepper
1 can (8 count) Pillsbury Grand biscuits
2 cups sharp cheddar cheese, shredded and divided
½ cup minced pickles, optional
ketchup, for dipping (optional)
mustard, for dipping (optional)
Instructions
In a skillet over medium heat, cook bacon until crispy. Remove from the pan and set on a paper towel-lined plate to cool. (Do not clean out the skillet.)
To the skillet, add ground beef, onion, seasoned salt, hamburger seasoning, salt, and pepper. Break up the beef and incorporate all of the seasonings. Cook beef over medium heat until no longer pink. Drain the grease and remove from the heat.
Crumble the cooked bacon and add it back to the pan. Set aside as you roll out the biscuit dough.
Remove the biscuits from the can and place them on a clean work surface. Using a rolling pin, flatten each biscuit to about 1/8-inch thickness.
Evenly distribute the ground beef mixture on top of the flattened biscuits, leaving room around the rim of the circle. Top each with 1/4 cup of shredded cheese and a tablespoon of pickles (if adding).
To fold the cheeseburger biscuits, wet your finger with water and rub it around the rim of each biscuit. Fold each into a half-moon shape, sealing it.
Using a fork, press the edges together to bind the seal.
Spray the basket of your air fryer with nonstick cooking spray. Working in batches, place the pockets in the basket.
Spray the tops of the pockets with cooking spray.
Air fry at 360°F for 5 minutes.
Carefully turn over the pockets and air fry for another 4 minutes.
Using a pair of tongs, remove the cheeseburgers from the air fryer and serve hot. Garnish with ketchup and mustard.
If you don't have an air fryer, simply follow the directions as written. But, instead of placing the cheeseburger hand pies in the air fryer, use the oven. Preheat it to 350°F, place the hand pies on a baking sheet, and bake for 10 minutes when the oven is heated.
link