Post by leilani on Jun 7, 2021 0:12:47 GMT -5
Hawaiian Pizza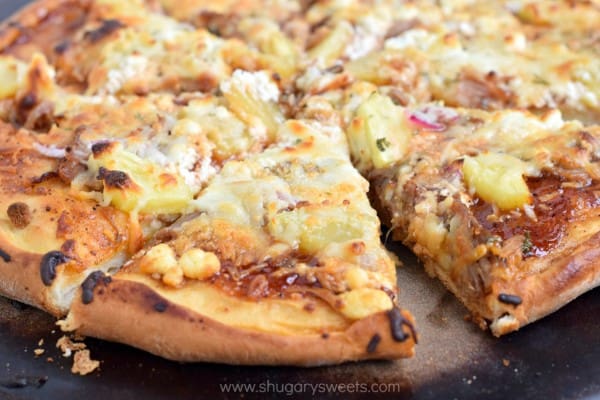 Prep Time
20 minutes
Cook Time
20 minutes
Total Time
40 minutes
Ingredients
For the crust (makes two crusts):
3 ½ cups all-purpose flour
1 envelope rapid rise yeast
1 ½ Tablespoons granulated sugar
1 ½ teaspoon kosher salt
1 ⅓ cup very warm water (120-130 degree F)
⅓ cup vegetable oil
For the topping (for one pizza):
1 ½ cups BBQ sauce (use your favorite)
2 cups cooked Kalua Pork (we love using our leftover shredded pork on pizza)
½ cup sliced red onion
⅔ cup sliced fresh pineapple
2 cups mozzarella cheese, shredded
½ cup goat cheese, crumbled
¼ cup parmesan cheese
Instructions
For the crust:
Preheat oven to 425 degree F.
In a large bowl, combine 2 cup of all-purpose flour, undissolved yeast, sugar and salt. Add very warm water and oil, mixing until well blended. (I used my electric mixer with paddle attachment). Gradually add the remaining flour to make a soft dough. The dough should form a ball and will be slightly sticky.
Knead dough on a floured surface until smooth and elastic, for about 4 minutes (I used my electric mixer with dough hook attachment for this part instead, it worked great!!). Divide dough in half and cover with a clean dry towel until toppings are ready.
No need to allow this to rise! This makes TWO pizza crusts. Use one for the hawaiian pizza, and use the second for your pizza of choice!
To assemble:
Pat each portion of dough with floured hands to make a 12inch round pizza (using a baking pizza stone or round pizza pan). Form a rim by pinching the edge of the dough.
Spread your bbq sauce on bottom of each crust. Top with shredded pork, red onion and pineapple. Sprinkle pizzas with three cheeses.
Bake in oven for 18-20 minutes, until cheese is bubbly and melted and the crust is browned. Slice and enjoy immediately!!
Notes
This dough freezes beautifully, too, if you're not in need of two pizzas. Wrap dough in parchment paper, place in a ziploc freezer bag, and freeze until ready to use. Thaw the dough on the counter top before attempting to roll it out.
I find a vinegary BBQ sauce works best in this recipe! The tartness balances the sweetness of the pineapple and the smoky pork in a way that I find so satisfying. Carolina BBQ sauce varieties tend to the the most vinegar heavy. That said, feel free to use your family's preferred BBQ sauce here.
Need an even easier version of this recipe? Use a pre-made pizza dough! Many grocery stores sell ready made refrigerated balls of dough and often your local pizzeria will sell you a ball of their dough if you ask.
link