Post by maybetoday on Jun 7, 2021 2:30:58 GMT -5
Lemon Berry Eclairs
Makes about 2 dozen mini eclairs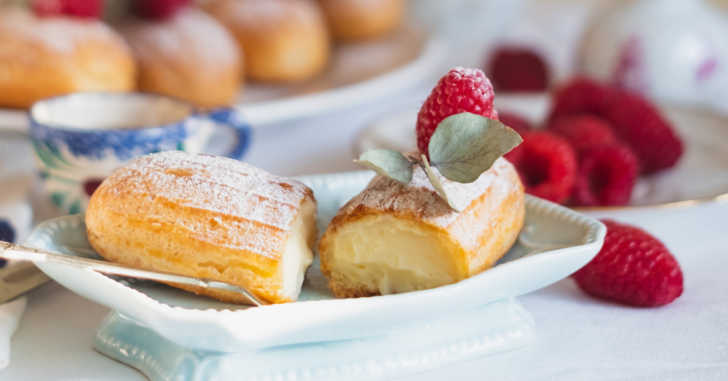 20m prep time
30m cook time
DOUGH:
1/2 cup unsalted butter
1 cup water
1 teaspoon salt
1 1/4 cups flour
2 teaspoons sugar
4 large eggs, beaten
1 teaspoon vanilla
LEMON CREAM:
1/2 cup + 2 tablespoons lemon juice
3 large eggs
1 large egg yolk
3/4 cup sugar
1/2 teaspoon salt
1/2 cup unsalted butter, cut into tablespoons
LEMON GLAZE:
1 cup powdered sugar, plus extra for garnish
Zest of 1 lemon
1 1/2 Tbsp lemon juice
Raspberries/blueberries/strawberries for topping
DOUGH:
Preheat oven to 400F. Line 2 large pans with parchment paper; set aside.
In a medium saucepan, combine butter, water, salt, and sugar on medium heat until the butter starts to boil. Remove from heat and immediately add flour, stirring until just combined.
Place the pan back on the burner and continue stirring until the batter pulls away from the sides of the pan. Remove the batter and place in a clean bowl. Let cool for about 5 minutes or until lukewarm.
Once cooled, add vanilla and beaten eggs a little at a time, stirring until completely combined each time.
Spoon the batter into a pastry bag fitted with a round tip and pipe the eclairs onto prepared pans. For mini eclairs, aim for about 3 inches long by 1 inch wide.
Bake for 20 minutes or until eclairs are puffed up and golden brown. Let cool completely.
LEMON CREAM:
Fill a small pot or medium saucepan with a couple of inches of water and bring to a simmer over medium heat.
In a heat-proof bowl, combine lemon juice, whole eggs, egg yolk, sugar, and salt. Place over the simmering water (water should not touch the bowl), whisking continuously for about 10 minutes. Remove from heat and cool.
Pour lemon cream into a blender. While it is running, add butter one tablespoon at a time, allowing each to completely combine before adding the next. Place cream in a bowl and let cool in the fridge.
For the glaze, mix powdered sugar, lemon zest, and lemon juice in a small bowl. Set aside.
ASSEMBLY:
Use a small knife to cut openings in your eclairs, leaving a hinge on one side. You can hollow out the eclairs to make room for more filling, or leave them as is.
Pipe the cream into each eclair. Spread a thin layer of glaze on top of each eclair and top with raspberries, blueberries, or strawberries. Use a sifter to dust powder over the top of the eclairs and serve.
link