Post by maybetoday on Jul 23, 2021 18:15:09 GMT -5
Chocolate Covered Cherry Muffins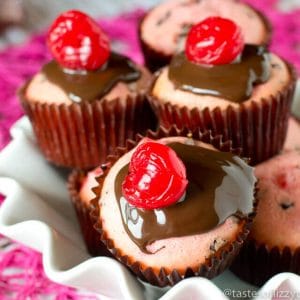 Prep Time 10 minutes
Cook Time 18 minutes
Total Time 28 minutes
Servings 16 servings
Ingredients
3/4 cup granulated sugar
1/2 cup milk
1/2 cup canola oil
1 large egg
1 teaspoon vanilla extract
2 cups all-purpose flour
2 teaspoons baking powder
1/4 teaspoon salt
1 jar maraschino cherries, drained (10 ounces)
1/2 cup mini chocolate chips
A few drops of red food coloring if desired
Chocolate Glaze:
1 cup milk chocolate chips
2 tablespoons heavy cream or coconut oil
Additional marashcino cherries for decorating if desired
Instructions
Preheat the oven to 400 degrees.
In a medium bowl, stir together the sugar, milk, oil, egg and vanilla. In a separate bowl, combine the flour, baking powder and salt. Add the dry ingredients to the wet ingredients and stir until just combined.
Drain the maraschino cherries. Coarsely chop the cherries in a food processor or with a knife. Gently fold the cherries into the batter.
Place 16 cupcake liners in a cupcake pan. Spoon the batter into the paper liners, filling 3/4 of the way through. Bake at 400 degrees for 5 minutes, then lower the temperature to 350 degrees and bake for an additional 13-15 minutes. A toothpick inserted in the center of the muffins should come out clean. Allow the muffins to cool for 5 minutes, then remove them from the pan and place them on a wire rack to cool completely.
To make the chocolate glaze, place the chocolate chips and heavy cream (or coconut oiin a microwave safe bowl and melt them in the microwave for 30 seconds. Stir the chocolate chips and continue to microwave them in 20 second intervals, stirring inbetween, until the chocolate chips are melted smooth.
Once the muffins are cool, spoon the glaze on top of each muffin. Place a maraschino cherry on top to decorate the muffins, if desired.
Allow the chocolate to set and store the muffins in an airtight container.
Notes
*I often add an extra teaspoon of vanilla or almond extract to the bread batter (along with the wet ingredients) for an extra boost of flavor.
*Many maraschino cherry brands come without red dye in the cherries. If you pick up a jar like this, your bread will not be pink. If you want pink bread, be sure that the cherries you use actually have red coloring in it. You can always add additional red coloring if you want the bread to have more of a pink color.
*You can make mini muffins, if desired. Simply bake them at 350 degrees for 12-13 minutes. This recipe would make about 32-36 mini muffins.
link