Post by maybetoday on Jun 10, 2020 20:56:10 GMT -5
China Forcibly Removes Crosses from 250 Churches in a Single Province
Michael Foust | ChristianHeadlines.com Contributor | Tuesday, June 9, 2020
A cross being removed from a church in China, China Forcibly Removes Crosses from 250 Churches in a Single Province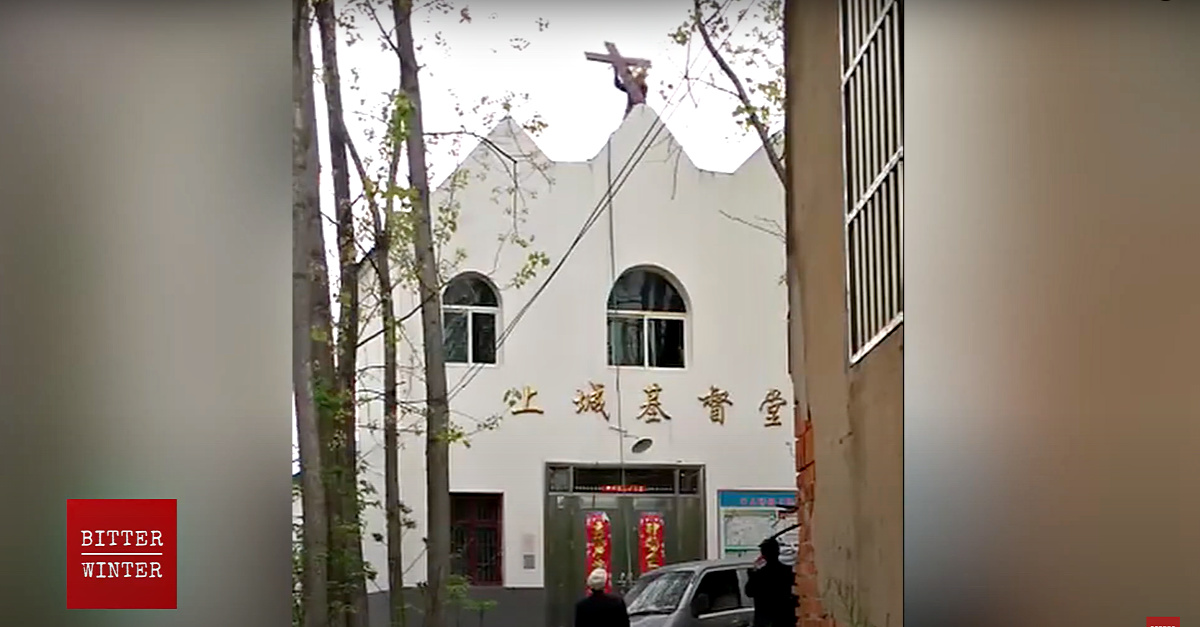 #China #world #top headlines #christian persecution
Chinese officials forcibly removed the crosses from more than 250 churches in one region early this year even though the congregations are registered with the government and are legal, according to a new report.
Religious liberty watchdog Bitter Winter says from January through April, crosses were removed from at least 250 Three-Self churches in the eastern province of Anhui. Unlike illegal house churches, Three-Self churches are members of a government-recognized Protestant body.
On April 1, 10 government officials in Anhui's Fuyang city approached Gulou Church with the goal of overseeing the removal of the building's cross but were blocked by more than 100 members, Bitter Winter reported. Despite the bold effort of the Christians, the cross was removed the next morning. The congregation is 124 years old.
Church officials said they were told all religious symbols – including Christian, Islamic and Buddhist – must be removed across the country.
"We support the state and comply with its regulations," a congregation member told Bitter Winter. "We can have a dialogue with the government if it thinks that we have done something wrong, but they can't persecute us this way. Officials did not show any documents, fearing that people would implicate them with anything in writing. They only conveyed verbal orders and forced us to obey them."
In one county in Anhui province, crosses from all 33 churches were removed.
In the Anhui city of Lu'an, crosses were forcibly taken down from 183 churches.
Often, local officials cover their orders with deception. An official in Anhui's Huoqiu county ordered the removal of a cross, saying it "might fall and injure people," Bitter Winter reported. In Hanshan county, government officials criticized church crosses for being "too tall, too large, too wide, or too eye-catching," Bitter Winter said.
One church member in Anhui told Bitter Winter that China fears Christians will "unite with foreigners against the state."
"As crosses are being removed throughout the country, those who refuse to cooperate will be accused of opposing the Communist Party," the church member said. "We are pressured to give up our faith, but we will persevere."
Churches in China must register with the government and join either the Three-Self Patriotic Movement or the Chinese Patriotic Catholic Association. Because state-registered churches face severe restrictions, millions of Christians worship in illegal underground churches.
Related:
Chinese Police Secretly Install Surveillance Cameras on Church, Threaten to Shut it Down
link