Post by leilani on Jan 2, 2023 17:34:09 GMT -5
How to make mango pudding: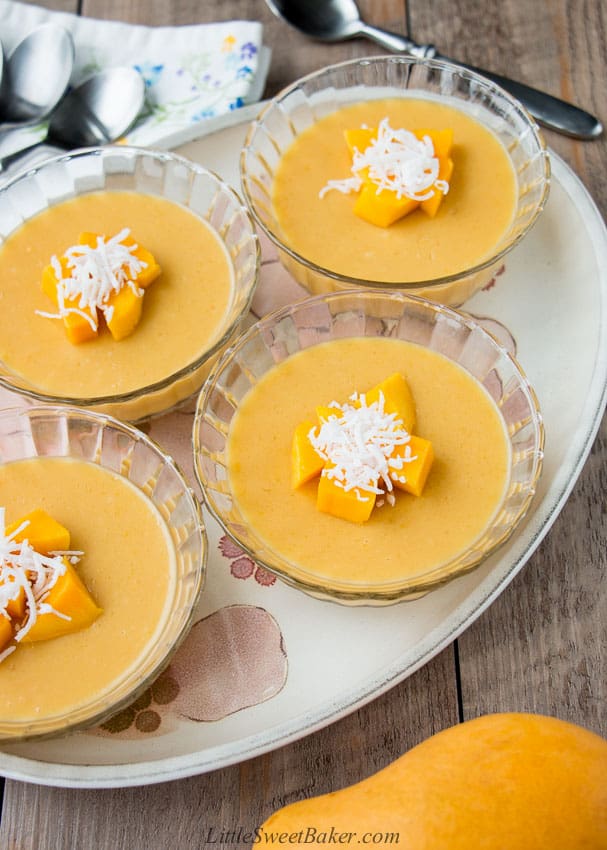 ingredients
1/2 cup (125ml) boiled hot water
1 packet (1 tbsp) unflavored gelatin (or agar-agar, see notes*)
1/2 cup (100g) granulated sugar
pinch of salt
1 cup (250ml) coconut milk, evaporated milk, half and half (10% M.F.), or table cream (18% M.F.) see notes below**
1 cup (250ml) mango puree, see notes below***
optional
some diced mangoes and shredded coconut to garnish
instructions
In a medium bowl, whisk together the gelatin and boiled hot water until no lumps remain.
Whisk in the sugar and salt until dissolved.
Stir in the coconut milk or cream, then mango puree until mixture is smooth.
Pour into 4 ramekins or small bowls. Cover and chill for a minimum of 2 hours before serving.
notes
Mango pudding can be covered and stored in the fridge for up to 3-5 days.
*You can substitute the gelatin with agar-agar powder. Now agar-agar powder is a stronger thickener (so you'll need to use less) and you have to bring it to a boil to fully activate. Follow the package instructions and use the amount advised to set 2 cups of liquid.
**I like using canned coconut milk for this recipe. I find the tropical coconut flavor pairs really well with the mango. Also, the richness from the coconut milk gives the pudding the best creamy texture. If coconut is not your thing, you can use evaporated milk, half and half (10% M.F.) or table cream (18% M.F.).
***Homemade mango puree from fresh ripe mangoes is the best for this recipe because it gives the most flavor. Simply puree a heaping cup of fresh diced mangoes in a blender until smooth and measure out one cup for the recipe. If your mangoes are stringy, strain the puree through a sieve. However, if fresh mangoes are not readily available where you are, you can use frozen or canned mango pulp. If using frozen mangoes, thaw and drain before pureeing in a blender. If using sweetened canned mango pulp, reduce the sugar by 1/4 cup.
link