Post by maybetoday on May 2, 2023 0:09:33 GMT -5
SPICE CAKE WITH CREAM CHEESE FROSTING
PREP TIME: 10 mins
COOK TIME: 40 mins
TOTAL TIME: 50 mins
YIELD: 16 servings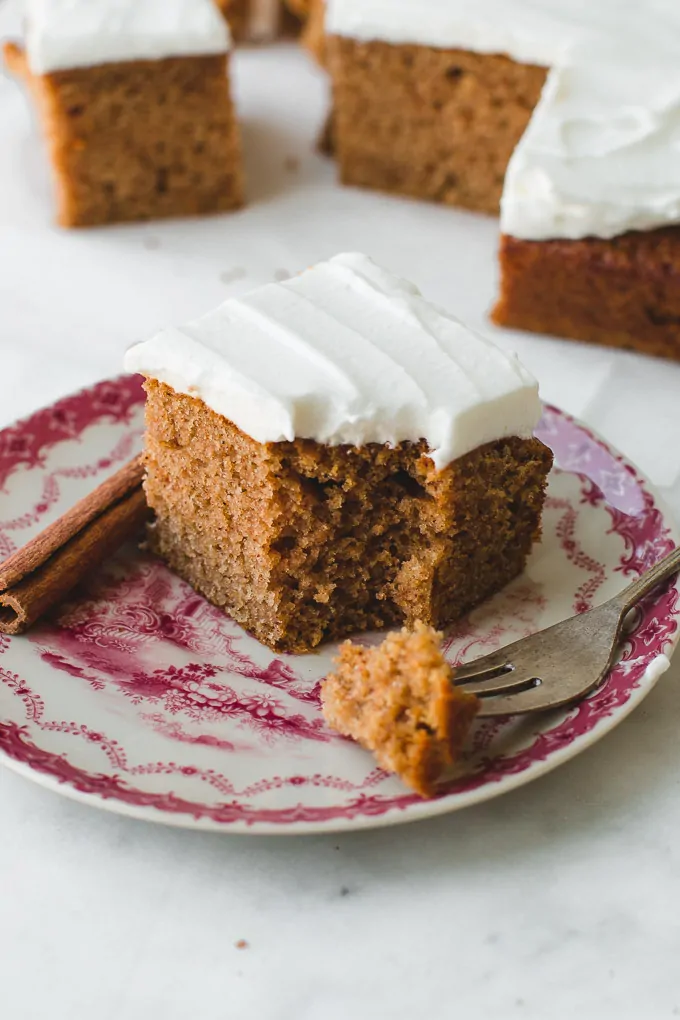 Ingredients
Cake
1 and 1/4 cups (170g) all-purpose flour, sifted
1 teaspoon baking powder
1/2 teaspoon baking soda
1/4 teaspoon salt
1 teaspoon ground cinnamon
1/2 teaspoon ground ginger
1/4 teaspoon ground nutmeg
1/4 teaspoon ground cloves
2 large eggs
1/2 cup (100g) granulated sugar
1/4 cup (50g) dark brown sugar
1/4 cup (60 ml) canola or another flavorless oil
1/2 cup (120 ml) unsweetened applesauce
1/2 cup (120 ml) buttermilk
1/2 teaspoon pure vanilla extract
Cream Cheese Frosting (optional)
4 oz. (115g) cream cheese, softened to room temperature
1/4 cup (1/2 stick/55g) unsalted butter, softened to room temperature
1 and 1/2 cups (175g) powdered sugar, sifted
1/2 teaspoon pure vanilla extract
pinch of salt
Instructions
Preheat oven to 350°F/180°C. Grease an 8×8-inch pan.
In a large bowl sift together flour, baking powder, baking soda, salt, cinnamon, ginger, nutmeg, and cloves. Set aside.
In a medium bowl whisk eggs, granulated sugar, and brown sugar until well combined for about a minute. Add oil and whisk until combined. Add applesauce, buttermilk, and vanilla extract and mix until well combined. Pour the mixture into the flour mixture and mix as little as possible, just until combined and smooth.
Pour the batter into prepared pan. Bake for 30-40 minutes or until a toothpick inserted into the center of the cake comes out clean. Allow cake to cool completely.
Make the frosting: In the bowl of an electric mixer fitted with the paddle attachment, beat cream cheese and butter on medium speed until smooth and creamy, 1-2 minutes.
Add 1 cup powdered sugar, vanilla extract, and salt, and beat on low speed for 30 seconds, then on high speed for 1-2 minutes until smooth and fluffy. If you want a thicker frosting, add 1/2 cup more powdered sugar. Frost cake with the frosting.
Store cake in an airtight container in the refrigerator for up to 5 days. Cake is best served at room temperature.
link