Post by songbird on May 2, 2023 22:20:21 GMT -5
MAPLE BROWN SUGAR COOKIES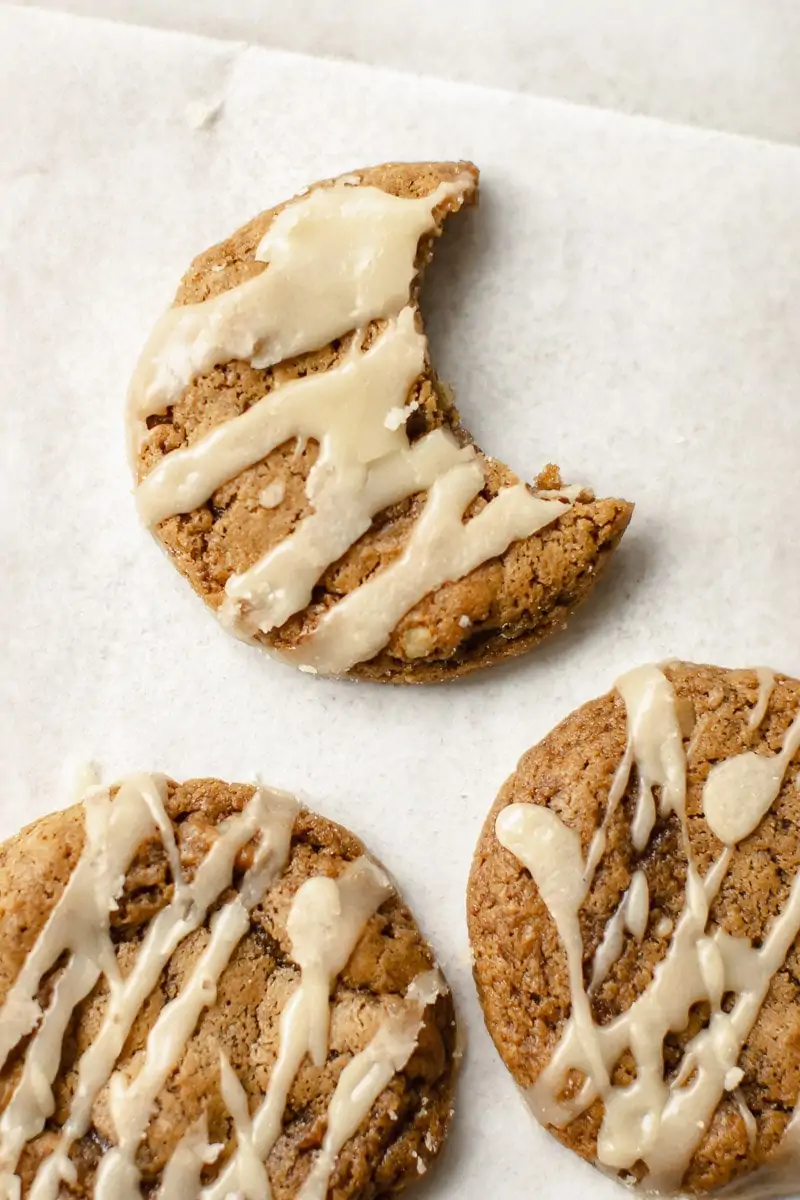 PREP TIME: 15 mins
COOK TIME: 11 mins
TOTAL TIME: 26 mins
YIELD: 24 cookies
Ingredients
Maple Cookies
2 cups (280g) all-purpose flour
1 teaspoon baking soda
1/2 teaspoon salt
1/2 cup (115g) unsalted butter
3/4 cup (150g) dark brown sugar
1 large egg
1/2 cup (120 ml) real maple syrup
1 teaspoon pure vanilla extract
1 teaspoon maple extract (optional)
1 cup (100g) chopped pecans
Maple Glaze
2 tablespoons unsalted butter
1/4 cup (60 ml) real maple syrup
3/4 cup (90g) powdered sugar, sifted
1 teaspoon pure vanilla extract
Pinch salt
Instructions
In a medium bowl, combine flour, baking soda, and salt. Set aside.
In a mixer bowl fitted with the paddle attachment, beat butter and dark brown sugar on medium speed for about 3 minutes, until light and fluffy. Add maple syrup and beat until combined. Beat in egg, vanilla extract, and maple extract, if using. Scrape down the sides and bottom of the bowl as needed. Add flour mixture and beat on low speed just until combined. Then add pecans. Do not overmix.
Wrap cookie dough in plastic wrap and chill for at least an hour. If the chilled cookie dough is hard to handle after being chilled, leave it on the counter for a few minutes to soften.
Preheat oven to 350°F/180°C. Line 2 pans with parchment paper.
Drop rounded balls of dough, 30g or 1.5 tablespoons each, onto prepared baking sheets (I like using this ice cream scoop to create my cookie dough balls). Leave 2-inches/5cm between each cookie. Bake for 10-11 minutes, just until the cookies begin to brown at the edges. Cookies will appear undone but will continue to bake on the warm baking sheet. Leave cookies to cool in the pan for 5 minutes, then transfer to a wire rack to cool completely before glazing.
To make the maple glaze: Melt the butter in a saucepan on the stovetop or the microwave. Then, combine with the rest of the ingredients in a bowl and mix together with a whisk or fork. Drizzle over cooled cookies.
Store cookies in an airtight container at room temperature for up to 5 days. They can also be frozen for up to 2 months.
link