Post by Honoria on May 16, 2023 1:56:26 GMT -5
BANANA NUTELLA CAKE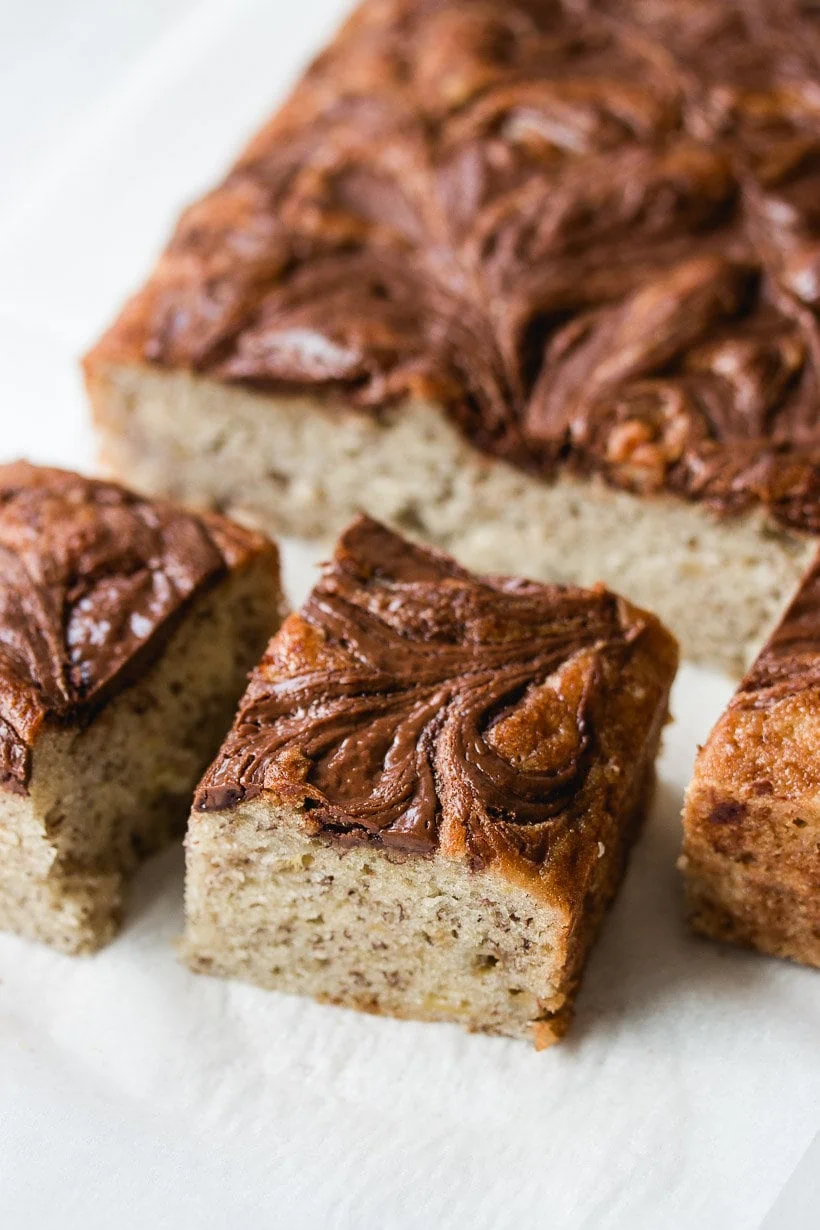 PREP TIME: 10 mins
COOK TIME: 40 mins
TOTAL TIME: 50 mins
YIELD: 16 squares
This incredibly moist, tender banana cake is swirled with rich and creamy Nutella for a decadent, easy-to-make cake. (Try it with cookie butter too!)
Ingredients
1 1/3 cup (185g) all-purpose flour
3/4 teaspoon baking powder
1/2 teaspoon baking soda
1/2 teaspoon salt
3 large (265g) very ripe bananas, mashed
1/2 cup plus 1 tablespoon (130g) unsalted butter, melted
1 cup (200g) granulated sugar
2 large eggs
1 teaspoon pure vanilla extract
1/3 cup (110g) Nutella
Instructions
Preheat oven to 350°F/180°C. Grease an 8×8-inch pan and line with parchment paper, leaving some overhang so the cake is easily removeable from the pan.
Combine flour, baking powder, baking soda, and salt. Whisk together and set aside.
Place bananas in a large bowl and mash them. Alternatively, you can puree them in a food processor to get the mashed bananas extra smooth. Add the melted butter, sugar, eggs, and vanilla extract. Whisk together until smooth. Pour the dry ingredients into the wet and gently combine using a rubber spatula. Pour batter into prepared pan.
To swirl the Nutella: Scoop Nutella into a microwave-safe bowl and heat for 10-15 seconds until viscous. You can also place the entire jar in a bowl of hot water and mix every few minutes to soften (Note: The Nutella should not be hot, but just soft enough so it swirls easily into the cake batter). Spoon dollops of Nutella on top of the banana cake batter. Using a knife or skewer, gently swirl to get a marble effect.
Bake cake for 35-40 minutes until a skewer inserted into the center comes out without any batter (Tip: Test a part of the cake without Nutella so you can really tell if the skewer is clean or not). Allow to cool completely on a wire rack. Then, place in the fridge to chill for 1 hour.
Store cake at room temperature or in the fridge in an airtight container for up to 4-5 days. Serve at room temperature.
Recipe Notes
*For a bigger cake, you can double the recipe and make a 9×13-inch cake.
link