Post by Berean on May 29, 2023 22:32:38 GMT -5
'John Ankerberg Show' Raises $20M for Audio Bibles, Keeps 80% for Private Jet, Expenses
16 hours ago Staff Writer
In the fall of 2022, the former Director of Donor Relations at the Ankerberg Theological Research Institute (ATRI), Andrew Jaeger, filed a whistleblowing complaint against The John Ankerberg Show. Alleging that Ankerberg raised nearly $16 million in donations on the promise they'd be used to fund audio bible distribution but instead spent the money on private jets and other ministry expenses.
For years, The John Ankerberg show has prominently featured Faith Comes By Hearing, (FCBH) a ministry that records audio bibles in various languages and then distributes them to people groups who have little exposure to the scripture. These bibles come in the form of 'proclaimers' (an audio device with the bible uploaded) or 'bible sticks.' ( See below) Ankerberg routinely advertises the product and makes heartfelt pleas, such that if viewers give $500, they can buy one proclaimer that "on average will reach 180 people and win 90 people to Christ."
He also says that if they donate $5000, they can sponsor the audio recording of one chapter of one book of the New Testament.
In his complaint, Jaeger alleged that of the $16 million raised by ATRI for audio bibles, only 15% of it went to FCBH. Instead, the other 85% was pocketed for other ministry-related expenses, including unnecessary flights.
Specifically, Jaeger says that over 18 months, the ministry spent $ 1 million on private chartered jets, including one flight to a destination that was only 100 miles away. He alleges they took one flight in 2021 to attend meetings that could have been done by Zoom, which he estimates cost nearly $60,000 there and back. Lastly, he said their private jet wasn't listed on their Form 990 in 2021.
After Ministry Watch broke the story and reached out for comment, the Ankerbergs offered a defense. They disputed his numbers, saying they never raised $16 million, but $20 million, and challenged Jaeger's claim that they only gave 15%, insisting it was more like 20%.
They also challenged his claim that they spent a million dollars on the jet, with Ankerberg insisting the true cost was "about half that." Darlene Ankerberg said the failure to disclose the use of charter aircraft was an "administrative mistake" which would be rectified. She also insisted that "The people know" where the rest of the money was going, without saying how they knew. When pressed, she said it was being spent upgrading the facilities and studios, producing their television program, and buying time from networks and stations, which is "very expensive," As of 2021, Ankerberg Theological Research Institute had $7.2 million in assets, and more than $3.9 million of that was in cash.
To be somewhat fair, in the episodes that we reviewed, Ankerberg never claims that ALL the money is going towards FCBH, though it's only in recent ones (following the whistleblower claims) that he explicitly clarifies that "a portion" of donations will be used to fund his ministry.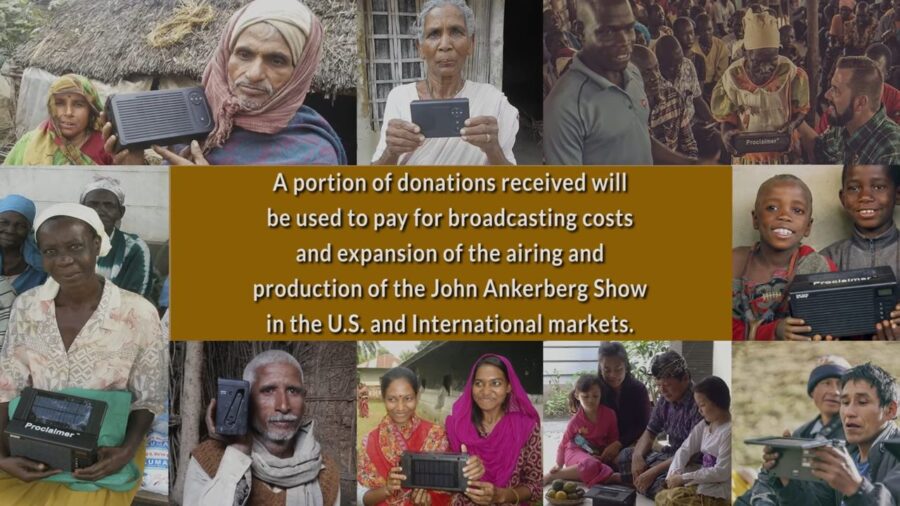 $0.80 on the dollar is one heck of a portion.
Spending only 20% of donations earmarked towards a specific fund is incredibly low by any standards, much less 15%. This is true when you're raising funds on behalf of another organization where one would expect they'd be giving Faith Comes by Hearing 100% of the funds and then FCBH can allocate how much is spent on administrative versus direct help.
In a recent segment, FCBH CEO Morgan Jackson tells of a woman on social security who spends six months saving up her money so she'll have enough money to sponsor one proclaimer, and she does that twice a year. Yet if one does the math, she's only buying 1/5th of a device, as 400-425$ of those dollars are going elsewhere, and not the "Your gift of $500 provides 1 Audio Proclamation to churches and villages who need to hear God's Word in their language!" as claimed.
One long-term donor said he thought it was mostly being spent on audio bibles and had no idea how little was being spent on the promised endeavor.
Charles Darnell says he has given more than $30,000 to The John Ankerberg Show, money he thought was going to purchase audio bibles.
He told MinistryWatch he became interested in audio bibles because he has two nieces who are missionaries and had learned how helpful audio bibles can be to the spread of the Gospel. But he said he was "aghast" at how little money he had given to the Ankerbergs went for audio bibles.
"If he was taking up to 20 percent, I would have said, 'That's cool,'" Darnell said. "But he takes 80 percent."
In a letter to Ankerberg, he said he felt "very sad for you and the people who work for you." He concluded his letter: "I respectfully request a refund of my $10,000 donation at the beginning of this year and also request the removal of my name from your mailing list."
link