Post by PurplePuppy on Jul 6, 2023 22:22:47 GMT -5
Pizza Grilled Cheese
This Pizza Grilled Cheese is made with pepperoni, mozzarella cheese, and garlic bread that has a salty, cheesy Parmesan crust! Dunk in pizza sauce for the ultimate pizza experience.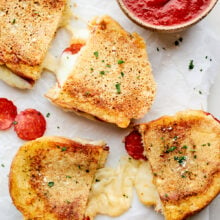 PREP TIME
5minutes mins
COOK TIME
10minutes mins
TOTAL TIME
15minutes mins
SERVINGS
1 sandwich
Ingredients
2 tablespoons salted butter, softened
1/4 teaspoon garlic powder
1/4 teaspoon Italian seasoning
2 slices Italian bread
1/4 cup freshly grated Parmesan cheese, divided
2/3 to 1 cup shredded mozzarella cheese, depends on the size of your bread
8 to 10 slices pepperoni
Pizza sauce, for serving (can use marinara sauce)
Instructions
In a small bowl, combine the butter, garlic powder, and Italian seasoning.
Place a cast iron skillet on the stove top and turn on the heat to medium-low heat. Let the pan warm up before you start cooking. The pan should be hot to the touch, but not smoking.
Spread one tablespoon of the butter mixture on one side of the bottom slice of bread. Sprinkle half of the Parmesan cheese in the hot skillet, spreading it out to about the same size as the bread. Place the buttered piece of bread, buttered side down, into the pan, directly on the Parmesan cheese.
Arrange the mozzarella cheese and pepperoni slices on the top side of the bread in the pan.
Spread the remaining tablespoon of butter mixture on the second slice of bread, then place it face up on top of the bread and cheese in the pan.
Let the sandwich cook until the bottom slice is golden brown, and you have a nice Parmesan crust, and the cheese has begun to melt on the inside. Don't turn up the heat. Low and slow is the way to go. If your cheese isn't melting, you can cover the pan with a lid to help, but don't turn up the heat.
Remove the sandwich from the pan.
Sprinkle the remaining Parmesan cheese directly in the hot pan, spreading it out about the same size as the bread. Place the sandwich back in the pan, uncooked side down, directly in the Parmesan.
Cook until the cheese is melted on the inside of the sandwich, and you have a nice golden brown, cheesy crust on the outside.
Remove from pan and use a serrated knife to cut the sandwich in half. Serve immediately.
Notes
Feel free to use your favorite pizza toppings as fillings for this sandwich.
link