Post by leilani on Feb 14, 2021 22:26:13 GMT -5
Instant Pot Pancake Bites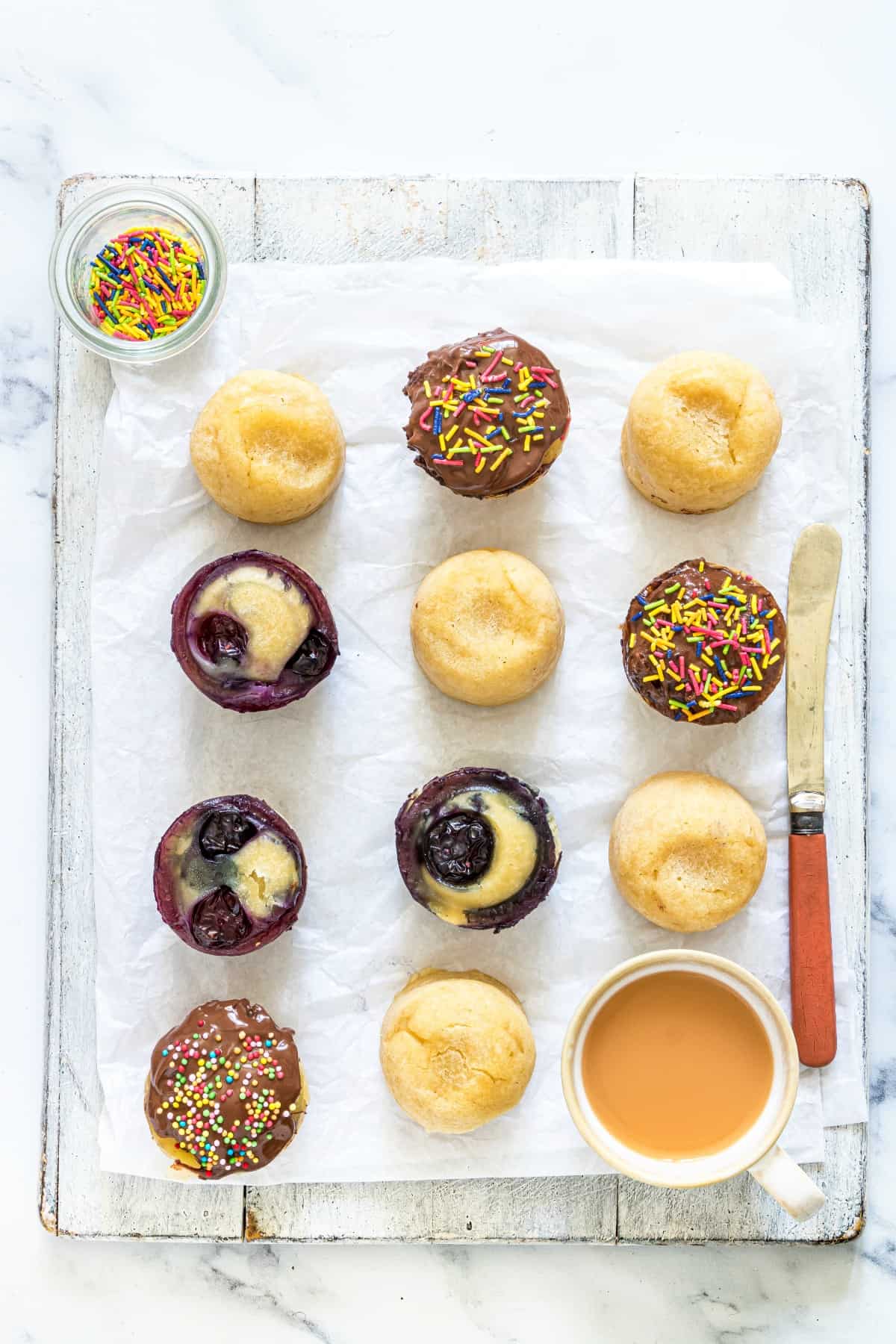 Prep Time
10 minutes
Cook Time
8 minutes
Total Time
18 minutes
Makes about 21
Ingredients
2 cups all-purpose flour
3 Tbsp granulated sugar
1 Tbsp baking powder
Pinch of Salt
1 large egg
1 ½ cups milk
2 Tbsp unsalted butter, melted and cooled
1 Tbsp maple syrup
1 tsp vanilla extract
Blueberries, optional
3 Tbsp Nutella (melted for about 30 seconds in the microwave), optional
Sprinkles (optional)
Instructions
Add the flour, sugar, baking powder and salt into a bowl and combine.
Mix in the egg, milk, cooled butter, maple syrup and vanilla extract until combined (it is ok to have some lumps).
Spray silicone molds and divide the mixture into the molds till they are about ¾ full.
Cover the silicone tray with the silicone cover or with some foil tightly wrapped around the edges to avoid condensation seeping into the pancake bites.
Add 1.5 cups of water to the Instant Pot insert followed by the trivet.
Add the silicone molds on the trivet.
Secure the lid and set the sealing valve to SEALING. Select HIGH PRESSURE (or manual) and set time for 8 minutes.
When done allow the pressure to release naturally for 5 minutes and then quickly release the rest of the pressure.
Remove the silicone molds from the instant pot and open them. Allow to cool a few minutes.
Turn the molds over on plate or tray and carefully tap the bottoms to remove the pancake bites without breaking, or use a spoon to pop them out of the molds.
Drizzle some extra Nutella over the pancake bites and top with sprinkles.
Serve warm with maple syrup, jam, Nutella, honey etc.
Notes
You can add a few blueberries into each mold cup or a teaspoon of melted Nutella (just don't do more than ¾th full even with the fruit or Nutella in)
Best served warm so reheat in the microwave for about 30-45 seconds.
Keep for 3 days in the fridge, or freeze in airtight container for up to 3 months.
Not all mold covers fit properly, so the foil keeps the water from entering.
This can make up to 21 bites depending on the size of your molds or if you use fruits and other add-ins
Swap in other berries like chopped blackberries and chopped strawberries or top with other nut butters
Make them savory and sweet by adding in a little cooked breakfast sausage or bacon before pressure cooking.
link