Post by bloodbought on Jun 26, 2021 21:10:22 GMT -5
Patriotic Bundt Cake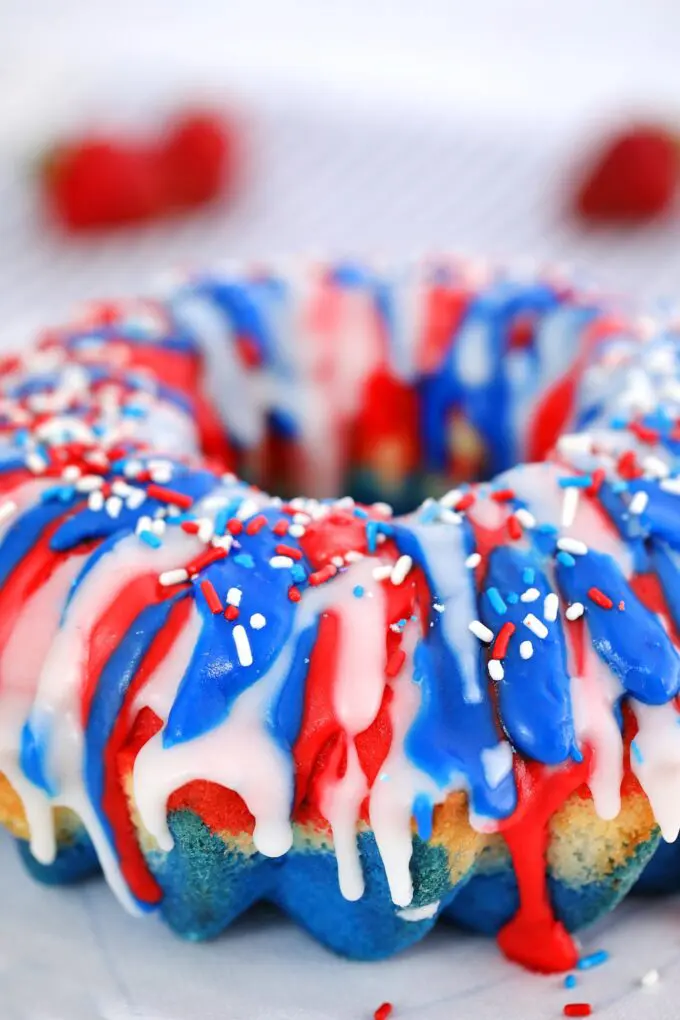 Prep Time: 15 minutes
Cook Time: 35 minutes
Total Time: 50 minutes
Servings: 12 slices
Ingredients
▢1 cup white granulated sugar
▢1/2 cup unsalted butter (softened)
▢2 eggs (room temperature)
▢1 cup whole milk
▢2 teaspoons vanilla extract
▢2 cups all-purpose flour
▢2 teaspoons baking powder
▢1/4 teaspoon salt
▢5-8 drops red gel food color
▢5-8 drops blue gel food color
Glaze:
▢2 cups powdered sugar
▢6-8 tablespoons milk
▢1 teaspoon vanilla extract
▢5-8 drops red gel food color
▢5-8 drops blue gel food color
▢2 tablespoons red, white and blue sprinkles
Instructions
▢
Preheat oven to 350°F.
▢
Grease and flour a silicone or regular bundt pan. If using a silicone bundt cake, place it on top of a baking sheet pan.
▢
Add flour, baking powder, and salt to a medium bowl and stir to combine.
▢
In the bowl of a mixer, beat together granulated sugar and butter, stop once to scrape the sides and bottom of the bowl.
▢
Add eggs one at a time and beat on medium speed until well blended.
▢
Change speed to low and add milk and vanilla extract. Increase speed back to medium and mix well.
▢
Add the flour mixture little by little and beat until smooth. Stop once to scrape the sides and bottom of the bowl.
▢
Divide batter into 3 bowls and stir in gel food color with a spatula until well combined into 2 of them: one red, one blue, and one should remain white.
▢
Add the colored batter into the prepared pan, start with blue followed by white, finish with red.
▢
Bake for 30-40 minutes or until a toothpick inserted into the center comes out clean. DO NOT OVERBAKE.
▢
Let cake cool into the pan on a wire rack for 10-15 minutes. Gently loosen cake from pan and turn onto a wire rack; cool completely before icing.
Glaze:
▢
Add powder sugar, milk, and vanilla extract to a medium bowl and mix until fully incorporated and smooth. If the glaze is not runny enough, add more milk. You need the glaze to be thick enough to hold it's "drip" on the cake, but runny enough to pour.
▢
Divide glaze into 3 bowls, add gel food coloring to two of them, one blue, one red and the white one stays intact. Stir color to combine.
▢
Drizzle different colors of glaze over the cake, immediately top with sprinkles.
▢
Let the glaze completely settle. Slice and serve the cake.
link