Post by bloodbought on Oct 21, 2021 23:39:40 GMT -5
Pumpkin Delight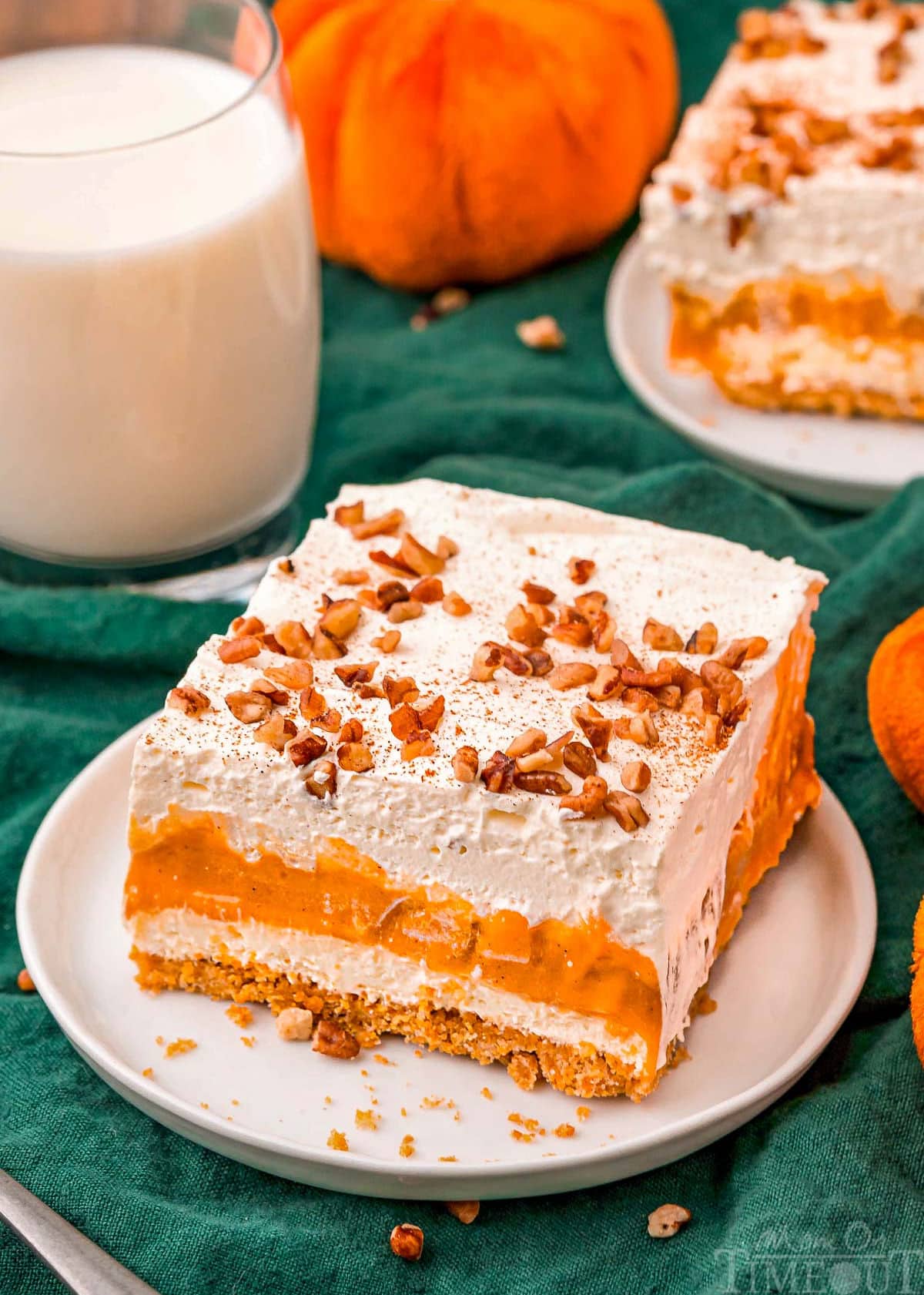 Prep Time15 minutes
Cook Time6 minutes
Servings16
Ingredients
Graham Cracker Crust Layer
1½ cups graham cracker crumbs finely crushed
6 tablespoons salted butter melted
⅓ cup granulated sugar
Cheesecake Layer
8 ounces cream cheese softened
⅔ cup powdered sugar
½ teaspoon vanilla extract
8 ounces cool whip thawed
Pumpkin Pudding Layer
6.8 ounces pumpkin spice instant pudding (2) 3.4 ounce boxes
3 cups whole milk
Top Layer
16 ounces cool whip thawed
¼ cup chopped pecans toasted
1 teaspoon pumpkin pie spice or ground cinnamon
Instructions
Preheat oven to 350°F. Lightly spray nonstick cooking spray in a 9×13 baking dish and set aside.
Graham Cracker Crust Layer
Stir together graham crackers, melted butter and granulated sugar in a medium bowl.
1½ cups graham cracker crumbs, 6 tablespoons salted butter, ⅓ cup granulated sugar
Press the graham cracker crumble evenly into the prepared baking dish and bake for 6 to 8 minutes.
Remove the graham cracker crust from the oven and let cool completely.
No Bake Cheesecake Layer
In a large bowl or the bowl of a stand mixer, beat the cream cheese until smooth and creamy. Add the powdered sugar and vanilla extract and continuing beating until combined.
8 ounces cream cheese, ⅔ cup powdered sugar, ½ teaspoon vanilla extract
Fold in 8 ounces of cool whip into the cream cheese mixture.
Spread the cream cheese mixture over top of the graham cracker layer.
Pumpkin Pudding Layer
In a large mixing bowl, combine the pudding and milk, following the pudding box instructions.
6.8 ounces pumpkin spice instant pudding, 3 cups whole milk
Spread the pudding mixture over the cream cheese mixture carefully and evenly using an offset spatula.
Top Layer
Spread the Cool Whip (16 ounces) evenly over top of the pumpkin pudding mixture.
16 ounces cool whip
Sprinkle the chopped pecans and dust with pumpkin pie spice.
¼ cup chopped pecans, 1 teaspoon pumpkin pie spice
Let the Pumpkin Delight chill in the fridge for a minimum of 8 hours or overnight to allow it to set properly before serving.
Notes
Storage Information
Refrigerator. This dessert can be refrigerated for up to 4 days.
Freezer. Cover tightly with plastic wrap, then foil and then store in the freezer for up to one month.
For nice, clean pieces, consider freezing the dessert for an hour before slicing and serving. Clean your knife after each cut for the most beautiful presentation.
link