Post by Shoshanna on Nov 21, 2021 19:45:27 GMT -5
Duchess Potatoes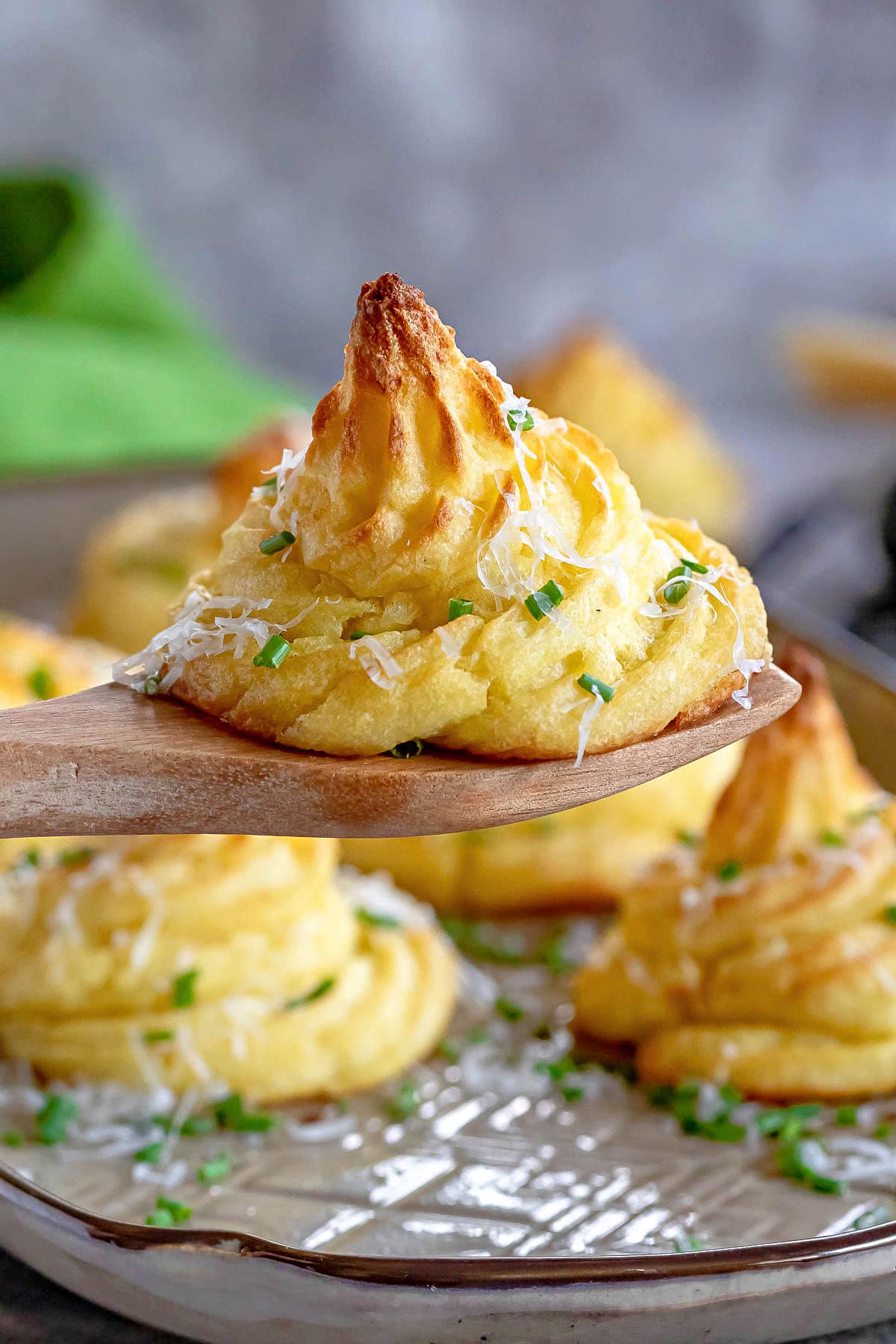 Prep Time 10 minutes
Cook Time 20 minutes
Chill Time 20 minutes
Servings 8
Ingredients
2½ pounds potatoes Yukon Gold is my favorite but russet can also be used
1 tablespoon salt sea salt or kosher salt
6 cloves garlic optional
6 tablespoons unsalted butter divided
¼ cup heavy cream
pinch ground nutmeg ⅛ teaspoon or less
½ teaspoon salt sea salt or kosher salt
½ teaspoon white pepper or black pepper
3 large egg yolks
Garnish (Optional)
chopped herbs chives, parsley, thyme, rosemary
Parmesan cheese freshly grated
Instructions
Line a large baking sheet with parchment or silicon baking mat and set aside.
Peel and cut potatoes into 1 inch pieces. Place in a large dutch oven or pot and add enough water to cover the potatoes. Add salt and garlic and bring to a boil.
Simmer the potatoes until fork tender. Drain the water and remove the garlic cloves. Return the potatoes to the hot dutch oven or pot and let sit for 5 minutes to eliminate any additional water.
Mash the potatoes with 2 tablespoons of cold, unsalted butter, heavy cream, nutmeg, salt and pepper. You will want to mash the potatoes until smooth and creamy but be careful not to over-mash or the consistency will turn gluey and gummy. If you have a potato ricer, that will work nicely here. Test for seasoning and additional salt and pepper if needed.
Stir in the egg yolks just until combined.
Transfer the potato mixture to a large piping bag fitted with a large star tip. You may need to do this in batches. If the potatoes are still very warm to the touch, let them cool until just barely lukewarm. Placing in the fridge for 10 minutes works perfectly.
Pipe the mashed potatoes in large mounds onto the prepared baking sheet leaving about 2 inches between each mound. You will want to pipe out about a half cup of mashed potatoes for each. Create taller than wider mounds for the best results. (Refer to my video at the link for any clarification needed.)
Place potatoes in the fridge for 20 minutes or more. This will keep the potatoes from flattening as they bake.
Preheat oven to 425°F.
Melt the remaining 4 tablespoons of butter and brush on the chilled Duchess potatoes. (Any leftover butter can be brushed on after baking if you like.)
Bake for about 15 to 20 minutes or until the tops are golden brown. Remove from the oven and serve with any garnish you like. I went with minced chives and Parmesan for mine but any fresh herbs are delicious. Serve immediately.
Notes
If you are making ahead, flash freeze the potatoes in the freezer for 30 minutes before transferring to an airtight, freezer safe container. Bake, from frozen, but add a few additional minutes to the baking time. Frozen Duchess potatoes are good for up to 6 months.
link