Post by PurplePuppy on Jan 24, 2022 2:22:04 GMT -5
Pina Colada Cheesecake Mousse
Creamy no-bake Pineapple Cheesecake is layered with toasted coconut crumble and topped with fresh whipped cream.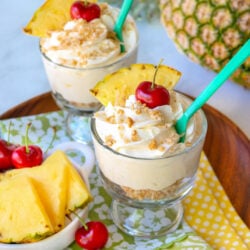 PREP TIME
30 mins
COOK TIME
10 mins
TOTAL TIME
40 mins
COURSE
Dessert
SERVINGS
6
INGREDIENTS
Crumble
9 graham crackers
1 1/2 cups sweetened shredded coconut
2 teaspoons sugar
6 tablespoons butter melted
Pineapple Cheesecake Mousse
1 1/4 cups heavy cream
1 cup powdered sugar divided
8 oz cream cheese 1 block
1 teaspoon vanilla extract divided
1/2 cup fresh pineapple finely diced
Fresh pineapple & cherries for garnish
INSTRUCTIONS
Crumble
Preheat oven to 350°F.
Crush graham cracker in a large ziplock bag and then pour into a large bowl.
Add sugar, melted butter and coconut and stir until evenly moistened.
Spread the mixture onto a rimmed baking sheet and bake 8-10 minutes. Check at 5 minutes and stir as needed.
Set aside to cool fully while the cheesecake mixture is prepared.
Cheesecake Mousse
In the bowl of an electric mixer, beat the heavy cream until it begins to thicken. While mixing, slowly add 1/2 cup powdered sugar and 1/2 teaspoon vanilla. Continue to beat until mixture is thickened and holds a stiff peak. Do not overbeat or it will become overly thick and clumpy.
Scoop whipped cream into a bowl and place in the fridge.
In the empty mixing bowl (no need to wash), add cream cheese and beat until smooth.
Continue mixing and add remaining 1/2 cup powdered sugar and 1/2 teaspoon vanilla.
Add pineapple, a little at a time, while slowly mixing.
Stop mixing and gently fold in HALF of the prepared whipped cream. Fold/stir until just combined.
Assemble the desserts by adding a layer of crumble to the bottom of each dessert dish. Add the cheesecake mousse, then top with reserved whipped cream (spoon onto the dessert, or add to a piping bag and pipe it on for an extra pretty presentation). Garnish dessert with a fresh cherry a slice of pineapple and some additional crumble. Serve immediately, or refrigerate up to an hour before serving.
NOTES
You will likely have crumble left over. The crumble can be stored in a sealed container for up to 1 week and can be used as a yogurt or ice cream topping.
link