Post by Pink Rose on Feb 2, 2022 23:51:49 GMT -5
This is my kind of cooking! 😁
I Tested And Ranked The 7 "Most Popular" Frozen Pizzas, And I'll Just Say It — There's One Brand You Couldn't Pay Me To Eat Again
I have distinct and incredibly fond memories of eating frozen pizza as a kid. It was generally an "every now and then treat." And then, WHAM. College happened, and suddenly frozen pizza went from "cute tradition" to "literal lifestyle." I know I'm not the only one here. And the number of brands out there?! Staggering.
Now that I'm a grown ass adult who actually cooks for a living, I'm usually too busy cooking up something not pizza-related...but TBH, I live for a frozen pizza every now and then. That said, the number of choices out there is overwhelming. Have I ever bought the same pizza twice? Truly unsure. Gotta try 'em all, right?
For *science reasons*, I wanted to find out the best-of-the-best when it comes to store-bought frozen pizzas. So I blind taste-tested the seven most popular brands, and the results were genuinely surprising to me.
THE PIZZAS
In terms of which pizzas I decided to taste-test, I wanted to make sure I was testing pizzas that most folks in the United States have access to. There are surely areas of the US where you won't be able to find all of these, but instead of opting for the "fancy" frozen pizzas I'm able to buy here in NYC, I stuck with the classics...plus the versions from brands like Trader Joe's and Whole Foods.
I also decided to test pepperoni pizzas because it's baaaasically just a cheese pizza with pepperoni, right? Unless brands are really out here with completely different formulas for their cheese vs. pepperoni pizzas, I feel strongly that you can trust this ranking for regular ol' cheese pizzas, too.
Here are the pizzas that I ended up testing: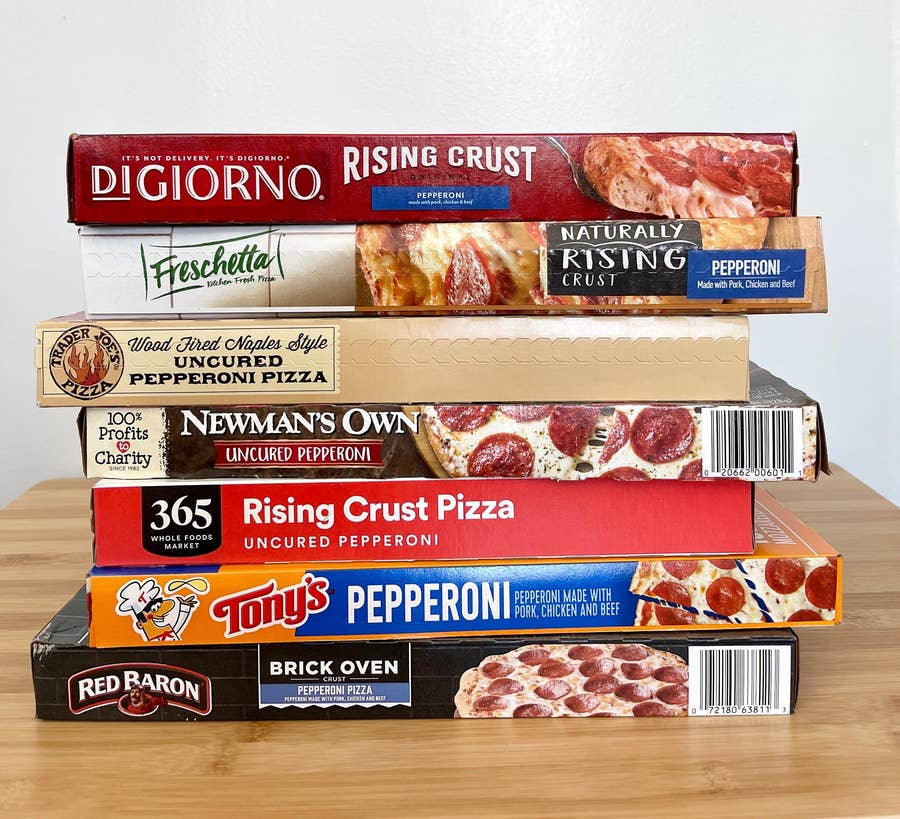 Common Standards:
• DiGiorno – Rising Crust Original Pepperoni
• Freschetta – Naturally Rising Crust Pepperoni
• Newman's Own – Uncured Pepperoni
• Tony's – Pepperoni
• Red Baron – Brick Oven Crust Pepperoni
House Brands:
• Trader Joe's – Wood Fired Naples Style Uncured Pepperoni
• Whole Foods 365 – Rising Crust Uncured Pepperoni
Continued at the
link